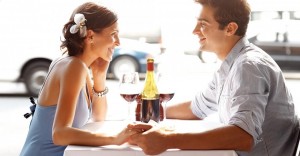 1. Get outdoors: Bearing in mind that the other person being up for physical activity, if they are this can be a great start. A good walk through a beautiful landscape, ideally with a pub or restaurant part way through will give you both a great opportunity to find out about each other, with plenty to talk about on the way.
2. A film and dinner: It's such an obvious choice that it's a bit of a cliché, but that's because it works. The film gives you time together without having to talk – and then gives you your first mutual topic to get you started over dinner. Be careful when choosing the film that it suits you both.
3. Theatre and dinner: Take it up a notch! Going to the theatre gives you both an opportunity to dress up a bit, and we know how good that makes us feel. Make sure the play suits you both – and be sure the restaurant will still be serving when the play has finished! An alternative is to have dinner first, but that doesn't give you the opportunity to discuss the play – but if you're getting on you may not make the play anyway.
4. A calmer outdoor trip: How about cycling somewhere, followed by a picnic? Boys – you'll score a lot of points for making a good picnic, or you could cheat and get some lovely salads from the supermarket. Remember to pack a rug to lie on too.
5. Champagne in the park: Utterly simple, and a delight. The fizz will soon have you chatting away, just don't overdo it. Take something good to nibble on and a blanket too.
6. A bit of sport? You may not be a fan of bowling, but it certainly is a good ice breaker. There's the opportunity for a couple of drinks, a nibble and light hearted competitiveness, plenty of breaks in conversation, but plenty of opportunities for it too.
7. See the sights: Go on tour in your own area but look at it through tourists' eyes. Particularly if you live in or near a big town or city, do a bit of research and then have a good look around the place you thought you knew so well – you'll both find out a lot that's new to you.
8. See the animals: Whether it's the zoo, safari park or an aquarium, almost everyone is enchanted by wild animals and again their antics will give you plenty to talk about during your date and after too.
9. Go dancing: This may scare some of us off, but if you're both into dancing it can be great fun and physical too. You'll laugh, touch, and have the opportunity to teach each other all at the same time
10. Try a new restaurant: OK so the film and theatre ideas are great – but perhaps that's a bit too much and you'd rather just try a new restaurant. Think about what you order, and if it's going to be a challenge to eat then be prepared to make light of any difficulties.
These tips have been taken from Parship.ie:
https://www.parship.ie/advice/the-first-date/Top-ten-date-ideas.htm