Date Nights suggestions to the top 5 restaurants in Cork
First of all, we looked at sunny dating adventures and we gave you a number of places to take your loved ones whether it was for a family day out, a first date or just a random Sunday adventure we hope you took note and enjoyed the scenic routes. We are now looking at restaurants, nice restaurant for dates. We decided to research on Trip Advisor, we believe they would provide us with a number of great restaurants to visit. They ranked the top restaurants in Cork in 2016. We have complied the list and have outlined the top 5 below:
1. Orso
Friendly restaurant in Cork offering fresh & vibrant flavours. Breakfast, Lunch, Dinner, Take Out.
ORSO kitchen and bar offers fresh and vibrant flavours in the heart of the city. Open from 8.45am most days, we serve breakfast, lunch and some amazing herbal teas and our own blend of coffee. We offer our dinner menu from Tuesday to Saturday, 5pm 'til late and have an interesting wine and beer list. Through our unique online ordering system you can order your food online for collection at a time that's convenient to you. As a proud, locally owned and operated business we set out every day to offer value, originality and great food. Why not take your loved one on a breakfast, lunch or dinner date in the heart of Cork City.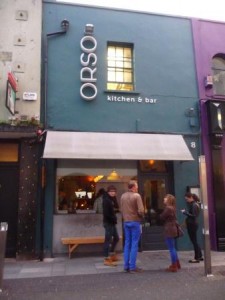 2. Elbow Lane
All-natural award winning beers from our tiny independent brewery in Cork city. We match these with food from our on-site smokehouse.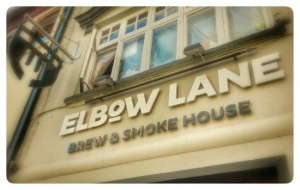 Set in a handsome building at the end of Oliver Plunkett Street in Cork City, this new restaurant combines an in house nano brewery for the already established below lane craft beer with a smoke house serving exciting food and drinks. The Elbow Lane would be a perfect spot for a date on a sunny Sunday afternoon in Cork.
3. Café Paradiso
First opened in October 1993, Paradiso has long attracted international acclaim for the innovative and ground-breaking vegetable cuisine of Denis Cotter, founder and executive chef.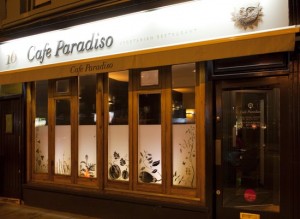 With its emphasis on rich, complex flavours and a focus on seasonal ingredients, the Paradiso kitchen delivers an exciting and pleasurable dining experience while putting vegetables front and centre. This unique food is matched by a carefully curated list of wines, all open and available in four measures. Why not wine & dine your date at Café Paradiso this bank holiday weekend? This would be a very romantic spot for a first date or an anniversary dinner or even just an evening out.
4. The Workshop Cork
The Workshop Tea rooms is owned and run by brothers Aiden and David. The Workshop was in fact that, a workshop, until a few years ago when the brothers decided to convert their father's old carpentry workshop into something new.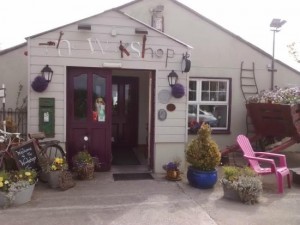 The family have worked in this area for over 300 years and so the lads decided to continue this tradition albeit in an unusual fashion by following a dream and their passions. They set out to create Cork's quirkiest coffee shop/ tea rooms, a destination, that allowed people to drive just 15 mins from the hustle and bustle of the city to an oasis of calm. Why not come visit and enjoy the experience yourself, sit back relax with some delicious locally sourced food, sit by the fire and soak up the ambiance with a crackly record player on in the background.
Why not venture outside Cork city and go for a lovely lunch in the Workshop tea rooms. This would be an ideal first date venue, informal cuppa tea & a spot of lunch, what more would you want? The fresh homemade cakes are mouth-watering & the staff are lovely. Perfect restaurant for an alternative date!
The Fishwife has the best fish and chips in town! Come in anytime and taste it for yourself! We are open 7 days a week.
The Fish Wife uses only the best quality fish – hake, cod, and smoked haddock – which is lightly battered as you wait, and cooked to order. All fish boxes come with mushy peas, tartar sauce and a slice of lemon.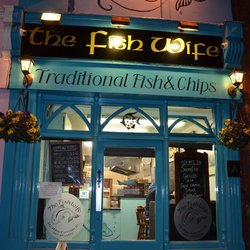 At The Fish Wife, we use local suppliers – namely Moonfish, Shellfish de la Mer and Gulfstream. We also get scampi supplied by the Good Fish Company which has become a bestseller. Keep an eye on the Facebook page for new specials.
Cosy date night in? Grab a takeaway from the Fish Wife in Cork City and they won't disappoint, open 7 days a week so date night can be any night